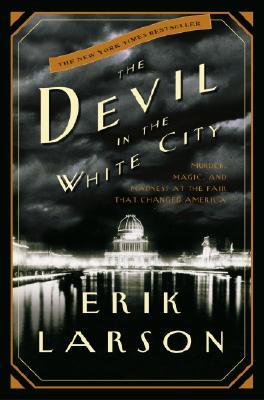 ** spoiler alert ** This book was both fascinating and tedious for me. Fascinating because building something on a scale as immense as the 1893 Chicago Worlds Fair, in a time frame as brief as 27 months, was nothing short of Herculean. Mind blowing actually. The tedious part was subjective. I got more engaged once the Fair actually opened but the first part of the book, with all the planning, the construction, the labor issues, the weather setbacks, etc., drug on for me. The drudgery of those sorts of tasks, albeit essential, just aren't as interesting to me. I kept after it tho because it seemed important to the understanding of what it meant to undertake a project this massive. I'm certainly in awe of Mr. Daniel Burnham (the Director of Works for the whole Fair) to even keep the project as close to schedule as he did and also keep it from completely folding before ever reaching completion. An exceptional feat indeed.

Reading about 'The Fair' inspired me to google (as reading often does) pictures of it so that I could see (and put in better context) some of the buildings the author was describing. That brought the book to life for me & I highly recommend doing the same if you're interested in reading it.
The black & white photos truly depict a visual wonder. Those huge, (palatial actually) buildings were stunning. The architecture & detail absolutely incredible. The man hours invested ~ off the charts crazy. Deciding to paint everything the same shade of white was genius ~ it made them GLEAM ~ an effect that really shows up in the old black & white photography. It was sickening to learn that almost everything was burnt in a fire at the end of the Fair. 

I've never been to a World's Fair but in 1893, when most of the population didn't travel, I can see how it would be the most important (or only) exposure a visitor had to other cultures. Touring the buildings/exhibits by other countries and even those of all 44 (at that time) states would be marvelously educational to say nothing of exciting. I was amazed too at all the "big names" that emerged from their contributions/association to the Fair. Thinking about a young Walt Disney watching his father do carpentry work in this magical place had to have been the springboard to his own fairytale vision. So many names that made an impact on history ~ Frank Lloyd Wright & Frederick Olmsted (father of American Landscape Architecture) were two that interested me & even George Ferris, Jr (creator of the Ferris Wheel). The innovations that arose from the pressure to create something more dazzling than the Eiffel Tower, from the previous Worlds Fair in Paris, were astounding. This book was very educational even if I got bogged down in the details. Hats off the Mr Larson for his meticulous research. 

One would think that everything mentioned heretofore would be enough to constitute a good book. But no, there's actually a second story running alongside the creation of the World's Fair that's equally as compelling and more shocking. That's the one involving serial killer, H.H. Holmes. I had not heard of him prior to reading the book and I almost wish I hadn't still, the guy was so diabolical. I usually shy away from all things associated with murder, they are too frighteningly real to me but strangely, I looked forward to getting to the sections of the book involving Holmes. The murders he carried out were grossly and morbidly riveting. To think of all the lives he took (and exactly how many remains unknown) and how easy it was for him is terrifying. When he was convicted of murder, he was only 34! It was a wide swath of lives he took out for a person of that age. 

It's so bizarre to think of the brilliant spectacle of the World's Fair going on side by side with the sinister actions of such a psychopath but I guess not surprising. There never seems to be good without evil but Holmes was evil on steroids.  Lucky were those who visited and left unaware of & untouched by him.

SO much going on in this book. I can't begin to touch on it all. 'The Devil in the White City' is really an incredible peek into the history of the era ~ so much more than a recounting of how the Chicago World's Fair was created. I liked it, learned from it and am happy I read it but for a history buff or detail oriented person it would be, hands down, 5 star all the way.