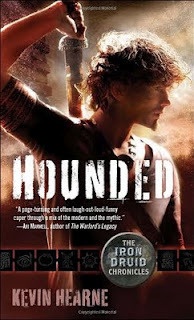 ** spoiler alert ** This book read like a comedy which was not at all what I expected from it. The author clearly has a keen sense of humor, instantly evidenced by the hysterical repartee of his main character Atticus ~ a 2000+ yr old Druid who is a cool, slang conscious, ass kicking, anything but geriatric, magician. He definitely doesn't let anything get under his skin but maybe that's what happens when you've been around as long as he has. His dog, Oberon, was equally awesome. They made a great team.

My neighbor recommended this book to me. I had no idea it was an 8 book series at the time or I might never have reserved the first one. She heard me express an interest in Irish Mythology at one neighborhood gathering and promptly served up the title. There is a fair smattering of Celtic Deities, folklore, fae, witches, giants, werewolves, etc., which appear throughout the book (of which I have no idea if they're accurate to Irish mythology or not ~ but I think so?? I confess ignorance in this arena.) It makes for an entertaining read, one where you don't realize you're actually learning any Mythology in the process. Atticus is a combo of modern day (forward thinking, not limited to ancient ways) warrior with supernatural powers and abilities. He mentioned in the book that most magic disappeared during the Iron Age because of how harmful iron was to supernatural beings. That was interesting to think about. I also loved that he got his powers from the Earth and was committed to care for it. I think the planet could use more Druids today!!

Not that I didn't like the book but I can really see it being a popular YA type novel. There was nothing "scary" or "nail biting" about the encounters between the centuries old Druid & other mythological creatures, even tho most of them were trying to kill him. I attributed the reason I didn't find it "nerve-wracking" to his humorous, laid back approach to each hostile circumstance. It was really difficult to be fearful for him when he greeted "foes" in the casual, relaxed manner which was his modus operandi.

Not sure that I will get any of the other books in the series at this moment, but I'm tucking them away in case I'm in need of some lighthearted, Celtic, magic-based reading in the future.