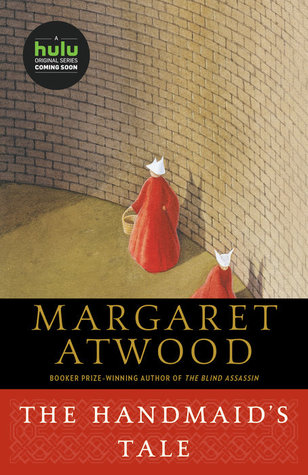 ** spoiler alert ** I have to quit reading these dystopian novels that scare me sleepless when I think about how quickly a free society can lose its freedoms. It didn't help that I was reading 'The Handmaid's Tale' right after listening to Madeline Albright, on a press junket for her new book, warning of Fascist signs in America today. She referenced a quote by Mussolini: "if you pluck a chicken one feather at a time, nobody notices." I can totally believe that. We're all so busy living our lives, we probably wouldn't notice small infractions at first. Offred mentions often in these pages, how much she wished she would have appreciated everyday things that seemed like another lifetime ago. Things she never dreamed she wouldn't have.

A natural catastrophe, a complete assassination of gov't (from President thru Congress), then this: "That was when they suspended the Constitution. They said it would be temporary. There wasn't even any rioting in the streets. People stayed home at night, watching television, looking for some direction. There wasn't even an enemy you could put your finger on." A statement of this nature elicits the same kind of fear in me that a scary movie does ~ once you put something out into the universe, whether it be fiction or not, it sparks the capacity to be real. Maybe it was always real (in somebody's head) just not in mine, but I can't shake it off either way. So I forego scary movies but books I can't seem to stay away from..

Curious that Offred, the narrator, never gives us her "real" name. She chooses to remain anonymous. I think that in itself is a statement. Something else that stuck with me was when the "Aunts" told her, "her group of women had it the hardest, for everyone after, it would be easier." They are the group that remember another whole way of life. I can't even imagine being forced into Offreds position after being college educated (such as she was) with a child (taken away from her) and the ability to live as she chose. How do you just "forget" the way you grew up & live under subjugation? It blows your mind thinking about it. I wanted Offred to find a way out, whether it be thru the Commander, Moira or someone else. But that wouldn't change the future for all the other women. What happens to her in the end is ambiguous. Nick tells Offred, "it will be okay" as she is taken away ~ is he really part of the 'Mayday resistance?' or not?? I'm not even sure who turned her in??

I have the first few episodes of the series on Netflix that I plan to watch now that I've read the book. I hope I can make it thru the entire series. The message is hard, but books like 'The Handmaid's Tale' are necessary. The segregation (by clothing,) the hangings (why does history never rid itself of hangings?), the dark underbelly (present even in this Theocratic society), all fear based ~ it won't be a light evenings entertainment, that's for sure. I'm glad I read this book tho, despite my worries about how realistic it could be ~ I get complacent as many people do & need reminders that the rights I enjoy are not a "given" or granted forever. It also makes me want to be less passive, so as never to end up an "Offred." I wonder if the author would be pleased about that response??