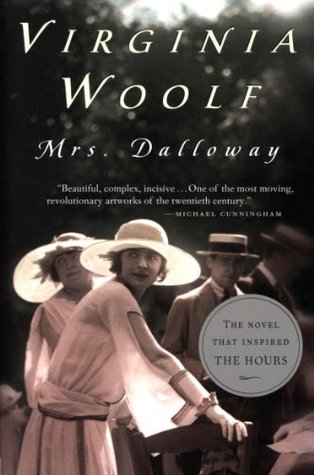 ** spoiler alert ** I have never in my life been so happy to finish a book. 

This little (194 page book) that I expected to be a "cream puff" ~ thinking it was about an English socialite preparing for a party, could not have kicked my butt more. I found it tedious and mentally exhausting to follow. Clearly I'm not one iota in simpatico with Virginia Woolf. Which makes me sad, I really wanted to love her.

Before I rail on & spew negativity about a literary icon, I did learn a thing or two reading it:
1. The entire novel takes place over the course of one day ~ a day that felt ten years long ~ which left me curious if there was an actual name for this type of book. Turns out there is ~ it's called "circadian." Good to know ~ all was not lost!

2. Googling Virginia Woolf, I found out she was a pioneer in the use of "stream of consciousness" as a narrative device. (info compliments of Wikipedia) I can't say I'm a fan. It was like reading verbose, flowery, mental diarrhea (with lots of references to spiders??). Sometimes the only way it made sense was to actually read it out loud. Perhaps an instance where the audible version would be more palatable??? Also, you can absolutely not be distracted in the tiniest degree while reading because, on the turn of a dime, characters & their thoughts are switched up. I found myself having to backtrack & reread because I'd missed the switch & got confused about who was doing the thinking. 

3. There are zero chapters in the entire book. Zero. No lie. Once you read the first sentence, expect to be all in because you won't find a "break point" any where. A difficult thing for someone who can't read the book in one sitting.

Incidentally, Mrs. Dalloway contains some of the longest (run on??) sentences I've ever read ~ and I should know since I have a tendency toward those myself. Mrs Woolf's are infinitely more eloquent than mine but just the same, at the end of certain sentences, I felt compelled to exhale exaggeratedly. 

The book is about so much more than preparing for a party and most all of it depressing. A WWI veteran who commits suicide (suffering from what we'd call PTSD today), unrequited love stories, a husband who can't even say "I love you" to his wife, a pious German woman seething with anger, etc., etc., ~ on and on it goes. Without knowing Virginia Woolf suffered from mental illness, you sense it in the darkness that seeps throughout her writing. I haven't looked into the subjects or tone of her other books but after 'Mrs. Dalloway,' she's suffered a serious setback when it comes to my want-to-read list. What a bummer. I had really high expectations. Maybe I'm lacking the capacity to appreciate her brilliance and/or her style? I hope that's the case because knowing she's beloved, I am left wondering what I missed??